Hardness tester, spring testing machine & more
Innovation in traditional quality
At KB Prüftechnik GmbH you get reliable quality "Made in Germany". With the perfect combination of experience and competence, we provide innovative hardness testers and spring testing machines for efficient and professional use.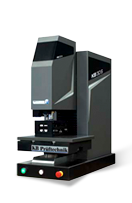 © KB Prüftechnik
Vickers Testing Machine
We offer hardness testing
machines according to Vickers
from simple series testing
through to fully automatic
systems.
Exclusively: Hardness testing
with the KB optical zoom.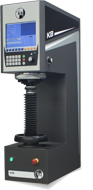 © KB Prüftechnik
Rockwell Testing Machine
Our hardness testers
in accordance with the
Rockwell procedure
offer precise test results
in accordance with all
Rockwell scales.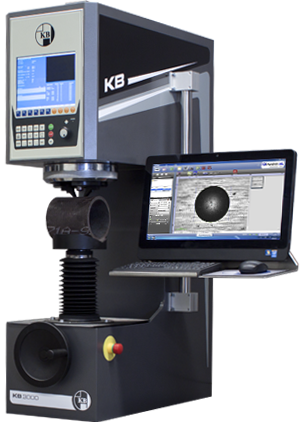 © KB Prüftechnik
Brinell Testing Machine
Test according to Brinell,
with the KB 3000 B Video,
test loads up to 3,000kgf.
Extremely accurate results
with the 5MP USB camera,
light-control and autofocus.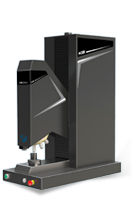 © KB Prüftechnik
Universal Hardness Testing Machine
The universal testing devices
from our portfolio provide a
variety of solutions for
testing procedures according
to Vickers, Brinell, Rockwell,
Super Rockwell or Knoop.
Competent with tradition
Tried and tested knowledge
With the products of KB, you benefit from the knowledge of former Wolpert engineers, whose longstanding experience in measurement and testing technology directly influences our products. This expertise enables the development of modern test equipment with the highest precision and long life.

Innovation in a nutshell
Modernisation with longevity
Our new developments are always state of the art. Apart from the maintenance and repair of your hardness tester or spring testing machine, we also offer the modernisation of older test machines: that way you remain up to date, even without new acquisitions.

We ensure the sustainability of your hardness tester or spring testing machine with the long term availability of spare parts and/or accessories for our machines. Hardness comparison plates, software and many further innovative products round off our range for you.

Expert advice
… with the best service
No matter whether a universally usable hardness tester, special spring testing machines, hardness reference blocks or other accessories - we are happy to give you competent and comprehensive advice. Just contact us. We look forward to hearing from you.