Products
Today, the industry is faced with the task of developing high performance products, with increasingly lower expenses, and therefore increasingly pushing forward into border areas. The precision and performance capability of testing systems is therefore crucial for the fulfilment of these increasing requirements. The more precise the test results, the more efficiently products can be checked, and the manufacturing process can be controlled.
KB Prüftechnik has decades of experience in the area of hardness testing, spring testing and material testing.'
The product range encompasses hardness testing machines and systems, static tension, pressure testing machines and modernisations of all kinds.
Feel free to contact us!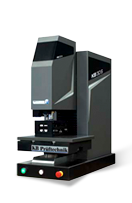 Hardness testing machines
Machines to test hardness
according to Vickers, Brinell,
Rockwell and Knoop.